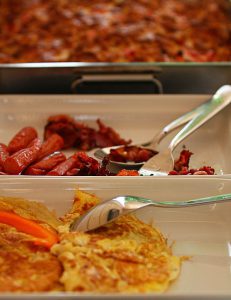 At the Inn's dining room, all meals served are prepared with love and care. We cook the food from scratch with Swedish products of the highest quality, often brought in from the local area. Eggs and vegetables come mostly from our own farm.
The menu is tailored to your wishes and seasonal availability.
We enjoy serving dishes with locally picked mushrooms and berries, game from the forest and fish from the nearby lake. We bake all bread, cookies and cakes ourselves.
Should you have any food allergy, we will prepare the meals with this in mind.